services and facilities 2022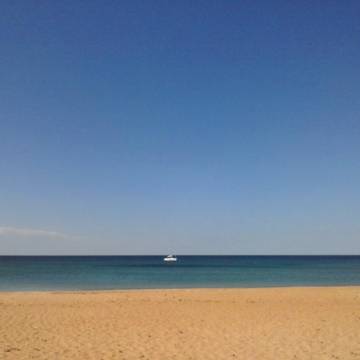 Enjoy our 17 km of sandy beaches and rocky coves and to do it safely… We'll be waiting for you!
SURVEILLANCE AND FIRST-AID-STATION
From 9th June to 9th October there will be First Aid service on the beaches.
Hours:
- June from 11.00 to 19.00 h.
- July and August from 10.30 to 20.00 h.
- September and till 9th October from 11.00 to 19.00 h.
NOTE: consult the services of each beach in www.denia.net/this-list-of-beaches
BIBLIOPLAYA (Beach librery)
From 16 June to 30 September, the Biblioplaya will be open on the Passeig de la Marineta Cassiana and next to the Beach of Albaranes, with a lending books and magazines.

Opening hours: Tuesday to Saturday from 9 am to 2 pm and from 4 pm to 7 pm.
NOTE: You need your ID number for reading books and press. You must return the books and press at the end of your day at the beach. If you would like to access a book loan service that is superior to one day, you can do so at the Municipal Library located at Calle Sant Josep, 6.
ACCESS TRAIN AT THE END OF LES ROTES
From June the 18th to September the 18th, a 'trenet' will cover the free transport service between the old miniature golf car park and the end of Les Rotes, closed to vehicle access from June the 18th (except for residents and other specific uses).

The schedule is from 9 a 14 h and de 16 a 20 h, with a frequency of passing every 15 minutes.
NON-SMOKING BEACH
At Playa Marineta Cassiana, in the Marge Roig area, 700 metres of tobacco-free sandy beach are available.
BEACH FOR DOGS
Situated on the northern breakwater, between the port of Dénia and Punta del Raset beach.
ACCESSIBLE BEACHES-ADAPTED BATH
From 1st to 30 June in Playa Punta el Raset.
From 1st July to 31st August in Playa Punta el Raset, Marineta Cassiana, Marines and Bovetes.
There will be two facilities for the citizen who requests the adapted baths.
The adapted bathing hours will be as follows:
June: Monday to Sunday from 11am to 7pm
July And August: from 11.00am to 7.00pm
It is advisable to request prior appointment to avoid crowds.
For more information and appointment download here
BEACH BARS, SUNBEDS AND PARASOLS
BEACH BARS WITH SUNBEDS AND PARASOLS
Marineta Cassiana: From May 1st to 30th October.

Punta del Raset (near Fernando restaurant): From July 1st to 30th October.

Marines (Albaranes C/ Boga): From July 1st to 30th October.

Bovetes (C/ Cigonya): From May 1st to 30th October
SUNBEDS AND PARASOLS:
Marines (near Bona Platja restaurant): From July 1st to 30th October.

Marines (C/ Rascló): From June 1st to 30th October
SUMMER FACILITIES
Pedalos
Albaranes (Boga street).

Punta del Raset.
Recreational floating platforms
Punta del Raset.

Les Marines (between Assagador de Sant Pere street and Red Cross aid station).