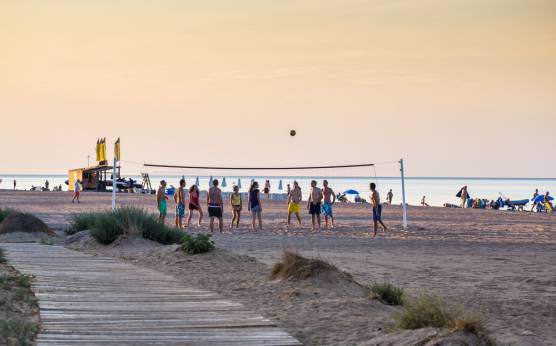 Punta del Raset
Blue flag 2023
SICTED Quality certification
Estás en playas
Situation: This beach is located at the north of the municipality. It is the closest to the town centre. You will find there all the facilities to enjoy your day at the beach.
Length: 570 meters
Type: sandy beach
Services (medium and high season):
-Surveillance and First-aid station from 1st June to 1st October. June from 11.00 to 19.00 h. July and August from 10.30 to 20.00 h. 1st September to 1st October from 11.00 to 19.00 h.
* First-Aid Station (Consolat del Mar, next to the breakwater of the port).
* Elevated surveillance chairs.
- Easy Accesses to the beach
- Adapted toilets
- 1 Beach Bar from 01/07-30/10. Toilet at the bar.
- Hammocks and umbrellas
- Water pedal-boats 01/07-30/09
- Recreational floating platform 01/07 - 30/09 from 10.00 to 19.00 h.
Area adapted for people with physical, visual, auditory and intelectual functional diversity: 15th june to 15th September.
- Limited places, booking compulsary.
- Shaded area, platform and walkways.
- Adapted bath: protocol
Servicios

Juegos deportivos

Parking

Servicios WC

Vigilancia marítima

Punto playa accesible

Papeleras
ISO 9001
ISO 14001

Hamacas y sombras

Quiosco

Balizamiento de seguridad

Juegos biosaludables

Patines

Bandera Azul

Paseo Marítimo
Pasarelas

Playa accesible
más playas en Les Marines
Debe activar javascript para ver el mapa
Cómo ir