Make the dream come true and get married in a Castle
Dénia Castle can host civil or symbolic ceremonies on the Governador Esplanade, an outdoor space surrounded by thousands of years of history and spectacular views.
Say yes by the sea
The Real Club Náutico de Dénia has halls and terraces that offer unique views of its marina and the port of the city, where you can celebrate the ceremony and the wedding banquet surrounded by a Mediterranean atmosphere.
Ceremony or pre-wedding, why not sailing in Denia?
Get married on a boat, or celebrate the pre-wedding sailing under a romantic sunset that surprise the guests, the company Mundo Marino will make the experience unforgettable.
Outdoor ceremony surrounded by vegetation
In Dénia there are many hotels and restaurants that have outdoor spaces, such as gardens and terraces full of charm that can host the celebration of the ceremony in addition to the wedding banquet.
Church or hermitage? on the way to the altar
The city welcomes different Catholic churches in which to receive the sacrament of marriage.
The church of Nuestra Señora de la Asunción and the church of San Antonio de Padua are located in the heart of Denia and a few meters from emblematic places such as the Castle, the old quarters and the port
It is also possible to celebrate the ceremony in small and emblematic hermitages located within the municipality that depend on the different parishes.
Further information
Parish Nuestra Señora de la Asunción
Phone. +34 96 578 01 76
Parish San Antonio de Padua
Phone. +34 96 578 09 78
Parish San Miguel Arcángel
Phone. +34 96 642 09 54 sanmiguelarcangeldenia@archivalencia.es
Civil ceremony in the City´s Council building
For simpler ceremonies, the City Council also offers its Plenary Hall.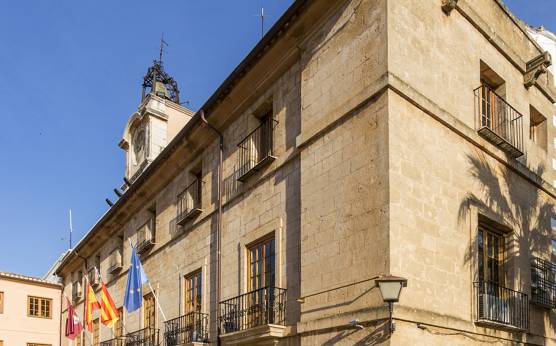 Other information of interest